Senior Lecturer in EU Law at The City Law School, Dr Elaine Fahey, has co-edited a new book (with Deirdre Curtin) bringing together legal perspectives on the relationship between EU and US legal orders.
A Transatlantic Community of Law: Legal Perspectives on the Relationship Between the EU and US Legal Orders was published by Cambridge University Press in July 2014 and features judicial, political, legal, socio-legal and international relations theorists.
Dr. Fahey joined City Law School in 2014 and was previously a Senior Postdoctoral Researcher at Amsterdam Centre for European Law & Governance at the University of Amsterdam, a Max Weber fellow, European University Institute, Florence, Italy and an Assistant Lecturer and Lecturer at Dublin Institute of Technology and Trinity College Dublin.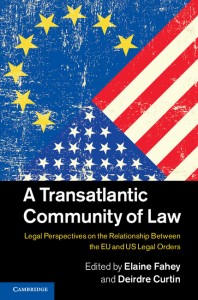 Find out more about the book and Elaine via the City Law School News.