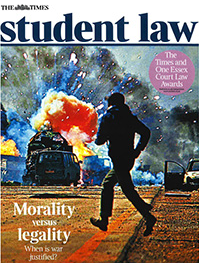 I'm sure most of you have clocked this already but The Times Law Awards deadline is only just over a week away – 25th November.
This essay competition is run by The Times and One Essex Court and this year's title is 'Morality versus legality: when is war justified?' 
With a first prize of £3,500 this is a competition not to be missed. We're very proud of the number of students from The City Law School who have won in previous years; Andrew Lomas (2013), James Potts (2012), Anthony Pavlovich (2011), Anita Davies (2010). Amy Rogers (2006), Sarah Love (2005), James Brilliant (2004), Mathew Gullick (2002) and Jonathan Davey (2001).