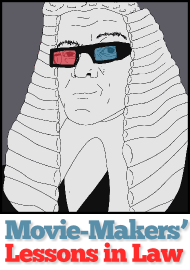 Joe Pesci and Marisa Tomei were perfectly cast. They are attorney Vinny Gambini who just keeps on trying and his sharp-as-a-tack fiancée Mona Lisa Vito. Vinny rushes to the aid of his cousin ('I shot the clerk?') who, with his roadtrip buddy, has been wrongly accused of a murder in a convenience store. This is the funniest courtroom movie ever made, and also one of the cleverest because most of the joke material arises out of legal procedure and evidence.
In the courtroom Ms Vito's experience justifies the admission of her opinion evidence. Not all expert witnesses need a string of academic qualifications. Watch the prosecutor unsuccessfully attempt to control Ms Vito's testimony. This is more akin to the real thing than the 'You can't handle the truth' exchange in A Few Good Men.
Like a well-prepared and knowledgeable expert Ms Vito explains the science. Contrast this with the prosecution's expert who has about as much witness box presence as a pebble.
Chuckle and gasp when disaster strikes. Vinny's courtroom suit ends up in the mud and he is forced to wear a last minute replacement from a second hand store. It's hard to gain the respect of the judge or the confidence of the jury if you look so out of place. Feel for Vinny as he tackles lack of sleep, a mass of evidential material and an unfamiliar doorstep of a book on legal procedure. I can't help thinking, 'We have all been there'.
After watching this movie the mere mention of the name Vinny Gambini is likely to bring a smile to your face. He is lovable, accident prone, inexperienced and at times looks like a circus performer. However, underestimate your opponent at your peril.
Penny specialises in witness evidence and never ceases to be fascinated by anything to do with the courtroom. She carries out research into witness issues and teaches judges and barristers about witness handling methods. As often as possible she likes to get a good DVD, a big bag of popcorn and hold a family film festival.
© Penny Cooper