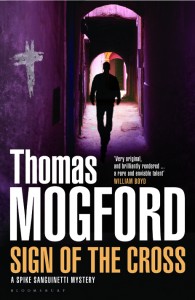 Tom Mogford, who completed his GDL at The City Law School in 2004, celebrates the publication of his second novel this week, Sign of the Cross. This continues the series involving lawyer Spike Sanguinetti, and kicks off with Spike attending the funerals of his aunt and uncle who police believe are dead as a result of a murder-suicide. Action takes place in Malta and Gibraltar and the loveliness of the Mediterranean acts in sharp contrast to the sinister and sometimes brutal developments within the novel.
Reviews have been excellent, with the US Library Journal describing it as follows:
Starting with a tortuous opening and rarely letting up, Mogford's superbly plotted thriller (after Shadow of the Rock) is just as riveting as his debut.
Tom kindly did an interview for Lawbore last year in which he talks about his first novel Shadow of the Rock, as well as his work as a translator and how law has continued to play a part in his life. Here's what he has to say about his new book:
"In the second book in the Spike Sanguinetti crime series, probate is the aspect of City's law course that is ruthlessly plundered, as our lawyer hero, Spike, travels to Malta to execute the wills of his uncle and aunt, who have died after what appears to have been a domestic dispute turns bloody. All is not what it seems, and Spike finds himself mixing with the two extremes of Maltese society — the Knights of St John, whose Order is making a comeback on the island, and the destitute African migrants whose boats are washed up on Maltese shores every week. The results are bloody, shocking and — I hope! — gripping…"