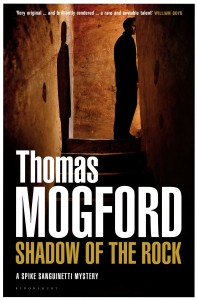 Thomas Mogford published his first novel, The Shadow of the Rock, in August of this year. Described by The Times as 'evocative, engrossing and entertaining', Mogford's work has also been praised by the great Susan Hill as 'original, pacey, a great writing debut'. This crime thriller is based in Gibraltar where the book's central character tax lawyer Spike Sanguinetti gets embroiled in a murder case whilst trying to save the accused, old friend Solomon.
Thomas has worked for many years as a translator, both for the European Parliament and the UEFA Champions League and completed his CPE (now the GDL) at City between 2003-2004. It's fantastic to see his first book doing so well (I'm reading it at the moment…) and for anyone who gets hooked, the next one Sign of The Cross, will be out next year.
Tom has been hugely in demand, with recent interviews on JazzFM and Radio 4's Front Row, you can read other interviews via Crime Always Pays and the website of Canadian writer Ethan Jones. Tom writes about the challenges of being the writer of a new crime series on Crime Time. Lots of reviews online by bloggers: It's a Crime!, Criminal Element. Follow Tom on Twitter for Spike news!