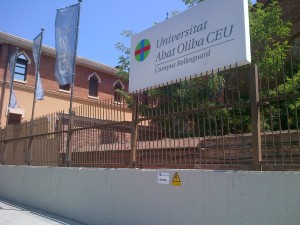 This past summer I had the pleasure of attending the International Summer School in Maritime Law at the Universitat Abat Oliba CEU in Barcelona, Spain. The program, run in partnership with the City Law School, takes places annually in the last week of July and aims to provide participants with a detailed insight into issues in the areas of shipping, land transport and European Law.
Those in attendance included professionals and students from over 20 different countries, including Lithuania, Nigeria, Argentina, Canada and Greece – just to name a few. I chose to attend, after returning home to Canada for the summer, as I am interested in learning more about this area of law. Due to my other elective choices for third year, I am unable to take the Maritime Law module and decided that the summer program in Barcelona would be an excellent opportunity.
The university is located in the high area of Barcelona, near the Collserola mountain range, and overlooks the picturesque house Bellesguard (also known as the Casa Figueras) which was designed by Spanish Catalan architect, Antoni Gaudi i Cornet, and built between 1900 and 1909.
The program ran Monday to Friday from 10am to the evening; however, we still found time to enjoy the sights of Barcelona, Tapas and Sangria, until the wee hours of the morning. ☺ The highlight of the week, for me, was our day trip to the Port of Barcelona in which we each got the opportunity to operate a navigation simulator at the School of Nautical Studies which provided us with an insight into how difficult it is for a shipmaster to manoeuvre a vessel.
We were also provided with an overview of the Rotterdam Rules, a treaty comprised of international rules for the maritime carriage of goods, by Miquel Roca who was recently named one of the "Best 50 Lawyers in Spain". Other topics discussed included Maritime Economics, Ship Arrest and Marine Insurance.
Overall, my experience in Barcelona was unforgettable and I made friends with an amazing and unique group of individuals from across the globe. I would definitely recommend the Barcelona International Summer School in Maritime Law to anyone with an interest in this area.
Alanna Narain, Third Year LLB Student