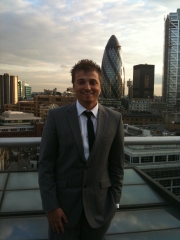 Matthew Toms
My journey to Allen and Overy began as I was doing the dishes one summer evening in July 2010. I received a surprising call while listening to my music; it was the graduate recruitment team at Allen and Overy asking me whether I would be "interested" in a one week placement in September. While keeping my nerve and composure at the overwhelming request I answered – I would feel absolutely honoured at the prospect.
Nothing happened after this call for many weeks and I began to feel unsure about whether I would even get a confirmation of an interview. This thought persisted until I received a call – It was confirmed. I quickly called my friend who, by this point, had received a confirmation a week earlier. We agreed to practise interview questions on each other, research the firm and offer advice as this would surely give us an advantage during the interview process.
We hustled and bustled through endless amounts of information that was scattered across the internet; some useless and some very unique. I seem to recall reading about a phobia that one of Allen and Overy's founders had and actually contemplated its use. Yet, regardless of the authenticity, we wanted as much information about the firm in our arsenal so we could demonstrate our desire to be given the opportunity at working in such a prestigious organisation.
Then before I knew it, the day had finally come – D-Day. The most important interview of my life was upon me and I wasn't going to take it lightly! I began the morning once again scanning through a pile of paper trying to locate any missing pieces I could fill into my head; alas there was nil. I did all the things people tell you to do: have a good night's sleep, a good healthy breakfast and before leaving the house a quick game of FIFA to relax.
I arrived an hour early at Allen and Overy's headquarters. Better still, the interviewer was late so I had time to show the receptionists I was keen by picking up the Financial Times and began to flick through to the business section; you can never have too much commercial awareness was my thought. I was then taken to a room where I was interviewed for around 45 minutes. At first it was of course nerve-racking but then once I had asked a few of my own questions the graduate recruiter did something that I did not expect; she had a friendly conversation with me about my studies and my experiences. Being in such a professional environment I had slipped my mind that she was human like me. I mean that in the most gracious way of course but the point is that she didn't come across as acting more 'superior' to me even though she clearly was. This was the moment when I felt that all famous Allen and Overy charm that I had heard about from all my hours of research.
Around 2 weeks later I received an email from the GR team saying that I had been successful in my interview and that I had been accepted onto the work experience program. I hastily phoned my friend and was ecstatic to find out that he too was accepted.
The day had once again arrived. I woke up that morning: suit freshly pressed, bag ready and a big smile on my face as I set out for my first day as an intern at Allen and Overy.
One of the first things I noticed when I arrived at the morning reception in Bishops Square was the relaxed and positive atmosphere that I was greeted by. During the first day I was smoothly introduced to the inner workings of the firm and what I was to expect throughout the week. This included guided tours of all the facilities, an exquisite lunch with associates and a group negotiation exercise. The standards and ethos of work that Allen and Overy promote were evident throughout. They encouraged a professional unity but at the same time encouraged diverse opinions and characters.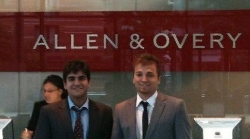 On the second day we were assigned to our chosen seats where we would be working with a individual team. I had chosen the corporate department and more specifically the mergers and acquisitions team covertly named C4. I chose this department mainly due to the high level of activity that it receives and it was where I want my career to take off. As I made my way to the office I was greeted by numerous people; secretaries, trainees and partners. All of whom were more than happy to have me on-board. Everybody was so thrilled that numerous piles of paperwork had neatly floated onto my desk! So it was clear my week would be busy but exciting at the same time – especially as one of the piles was entitled 'strictly confidential'.
My work at Allen and Overy varied each day and by each hour. Emphasis transferred between multi-billion pound deals with big named clients to small pro bono projects that the corporate department had taken on. This was most exciting as there was never a moment where you felt bored or continuing the same old job; it was completely the opposite. Throughout the week my time was mostly taken up by office work, networking and research for the end of week presentations (to which my team won!). The most subtle experience for me during the week was that I had to research the tax department for my presentation. As such I would have to organise my own meetings with associates within that department and schedule it around my office work. This was a challenge but it was rewarding as I was able to experience Allen and Overy's multitude of areas of expertise and it was all done by me. Thus, it was clear that we were not being treated as students – we were given complete autonomy in our research.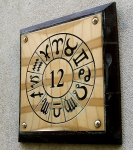 During my time at Allen and Overy I learnt that a big firm does not mean that you are simply another 'fish in the ocean'. On the contrary, it was clear that Allen and Overy had selected all of the students based on our personality and what diversity we could bring to the team. Another thing I learnt was that even though I was part of a large international law firm, most of my time and work was done with a small group of lawyers. This was especially valuable as I was able to gain an insight into their experiences and thoughts about working at Allen and Overy. Additional skills I learnt were the importance of professionalism and confidentiality, and how working at Allen and Overy requires a constant appreciation for both of them. Yet, above all else, I learnt what it would be like to work at a magic circle firm, the skills needed to do so and how I could make that a reality. Indeed, towards the end of the week we were given numerous talks about interview techniques, application writing and how to make a good first impression. I know these would be invaluable seeing as I was most certainly going to apply for vacation schemes for the summer.
Of course, work experience at Allen and Overy was always going to raise difficulties for a prospering young lawyer. One of them was that when work was delegated to me, I was intimidated to ask for any more detailed instructions. However this fear swiftly ceased as all the lawyers, paralegals and other staff actively encouraged me to vocalise my queries.
One of the key features of the work experience week at Allen and Overy was the emphasis on networking with lawyers. This came in many forms; primarily including lunch and dinners with our buddies and assign associates. This was a great opportunity to gain personal insight into other peoples experiences as well as a perfect time to raise any questions or thoughts we had had throughout the week.
My time working at Allen and Overy may have been short, and perhaps more is still to be learnt about life in a city law firm. However it is most definitely 5 days that I will never forget. The people and culture at Allen and Overy certainly exceeded expectations and brought down stereotypical walls of life in a city law firm for me. This is the thing that I will take most from the experience as I am now confident that I have chosen my perfect career and relish the thought of one day returning there as a trainee.
I would like to take this opportunity to thank the graduate recruitment team at Allen and Overy for all their hard work and effort in making the week as magnificent as possible. I would also like to thank all those people at Allen and Overy who took time out of there obviously busy schedule to talk to me and offer me advice. Finally I would like to thank The City Law School for running this program and by putting my name forward for selection.
Many thanks to Matthew for writing this account – Matthew is an LLB2 student at The City Law School.