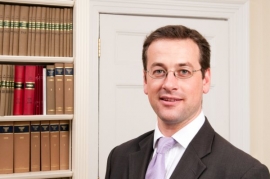 There are two very important things to know about pupillage.
The first is that – whatever horror stories you may hear – it's not as bad as it sounds.
The second is that – although you will presumably be wanting to stay in Chambers at the end – it's as much about learning as it is about be tested.
Pupillage is undeniably a difficult, tiring and often stressful year. But forget tales of pupils forced to act as impromptu sun-screens by rude and dictatorial supervisors. My own experience – and that of the majority of my fellow City alumni – is that most barristers in most Chambers do remember that pupillage can be tough, and so do their best to help.
This may mean (and should mean) careful and constructive feedback on your written work or advocacy from your supervisor. Or it may simply be a passing chat and words of advice and encouragement from a QC in the photocopy room. At some sets it extends to nights at the pub with the junior tenants. Of course there are occasional problems and personality clashes. But always remember: by and large people will be rooting for you to succeed.
Not that these people won't be testing you. Every piece of work should be of a good standard if you want to be kept on (or at least, almost every piece). But don't forget the "pupil" in "pupillage". Use the year to learn as much as you can – about law, procedure and how the profession operates – without thinking that it's one long exam and job-interview. That way, not only will you be a bit more relaxed and stand a better chance of getting a tenancy, but you'll also have developed a set of very marketable and useful skills to take elsewhere if things don't work out.
My own pupillage was structured fairly typically. I had four different supervisors, each for a period of around three months. Because it was at a commercial set, there was a great deal more paper-work than advocacy, so most time was spent in my supervisor's room rather than in court. I would research points of law, draft statements of case and sections of skeleton arguments, write opinions and generally assist my supervisor in whatever he was doing. Unlike trainees at solicitors' firms, pupils don't tend to have to do a lot of photocopying etc – although I did make quite a few cups of tea.
Each supervisor had a slightly different practice and very different styles. Some worked collaboratively with me, always wanting to talk through points and bounce around ideas. Others would set me a task, give me a deadline and let me get on with it. Part of the challenge of pupillage is adapting your own working habits to your supervisor's. Part of the value is learning which of those styles suits you best when you start to work on your own. Hours were regular – around 9 in the morning to 6 or 7 in the evening, with an hour for lunch.
In addition to this basic diet, I was often "lent" to other members of Chambers, either to do a discrete piece of work or, on a couple of occasions, to help out with a hearing. Things are very different when you and your supervisor are in court – you should expect to work very long hours for a period, and everyone's stress levels rise considerably. That said, these were probably the most enjoyable parts of pupillage, because you get to be involved in all the behind-the-scenes work preparing for a trial, and to live through the daily highs and lows of court-room drama. And listening to a QC reading out in court material that you have prepared does make you feel – for a fleeting moment – that you might get to be a real barrister some day and not just a pupil.
After Christmas and after Easter I met with the Head of the Pupillage Committee to review my progress in the previous three months, based on my supervisor's report. And then, in the summer, came my first appearances in court on my own and the tenancy decision. Even at a commercial set, there are likely to be a few small cases for pupils to cut their teeth on, and there's a certain excitement (and sense of horror) in seeing the first set of papers come into Chambers with your name on it. This prompts a frantic bout of over-preparation for a 10-minute hearing, a train journey spent checking and re-checking with increasing paranoia whether you have all the right books and documents, culminating (if that's the right word) in a 2-minute hearing in front of a kindly judge who decides that it's all too complicated and that you'll have to come back next month. But when you walk out, however well or badly it's gone, you'll know that you'll never have to do your first case again.
How your pupillage ends depends entirely on the tenancy decision. If it goes your way, then the amount of work you do on your own account will increase, the QCs who hadn't managed to remember your name suddenly manage to do so, and it gradually dawns on you that one day you are going to have to tackle all the complicated and daunting things that you've seen your supervisors doing as a pupil. If the decision is against you, most sets (and certainly my own) will work very hard to make sure that you end up as a third-six pupil in a set of Chambers from which you'd like to practise. There can be no guarantee that this will happen, I'm afraid, but the experience of most of the people I know from City who did not get tenancy first time round was to be given a second bite of the cherry.
Chris is a graduate of Oxford, Yale and the City Law School, doing pupillage and now has a tenancy at 3 Verulam Buildings, Barristers Chambers who specialise in Commercial Law. To see Chris's profile on the Chambers website click here.