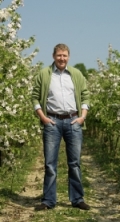 As a City Law School alumni, Keith Abel (of Abel & Cole organic fruit and vegetable distributors) is interviewed for City, the magazine for friends and supporters of City University London.
Find out how the business started, how his ethos developed, his views on higher education and what's he's been up to since selling the business 2 years ago.
Keith has strong words of advice for those graduates facing a tough jobs market.
Get inspired here!
See another piece on Keith from 2007 on thisismoney.co.uk