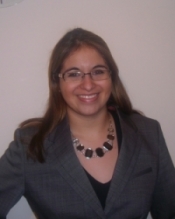 After completing my legal studies at the City Law School, I was called to the Bar in 2007. I work in the Complex Case Team for a firm of Solicitors, practicing in personal injury and clinical negligence law.
In 2008 I was asked if I wanted to join a local charity called BCHA which funds LATCH (Living Amicably Together in Caring Homes), a charity that houses homeless 16-25 year olds in the London Borough of Bromley. Thinking it a great opportunity to give back something to my own community I joined. I am now trustee at BCHA with the responsibility of overseeing all governance issues, and Chair of the LATCH Management Committee.

Day to day duties include overseeing the appointment of new trustees, ensuring the charity is complying with all governance issues, filing the Annual Returns and reviewing policies such as Child Protection, Equal Opportunities, Information Protection etc. I am also in contact with the Charity Commission, who (when your past knowledge of Charity Law from the second year can get a bit rusty) are extremely helpful.
Whereas I enjoy my main job, I find a lot of job satisfaction doing this voluntary charitable work as I can see how this is benefiting the young homeless in the London Borough of Bromley, and I am using my skills gained at University.
I would encourage people to put their law degree and qualifications to good use and contact a local charity – lawyers are always good assets to have on a committee! It is also a most humbling experience to know that your 3 years of studying and your fourth year on the BVC can really be used in a practical way, which can possibly change someone's life.
Lisa is a Barrister working in the Complex Case Team at MTA Solicitors, specialising in personal injury and clinical negligence. Following completion of the LLB at City University in 2003, and the Bar Course at the City Law School, Lisa was called to the Bar in 2007. As a member of Gray's Inn and the Personal Injury Bar Association, Lisa enjoys developing her legal career as well as chairing a sub-committee for a local charity that houses homeless youngsters in her borough, together with other pursuits.