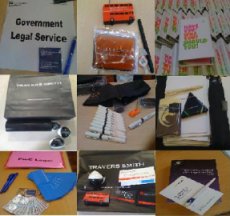 The City University Law Fair, in theory has always been to give, students an opportunity to network with Solicitors and Barristers from different firms and chambers. The fair is a one-off chance per year for students to find out more information or raise any queries about the paths taken to get to such firm or chamber. However in reality what happens at the law fair is different. The reasons for having a Law Fair cannot be doubted, but in reality, it is not as great as it should be.
You see the Law Fair has always been criticised by students from the second and third years as a waste of time. Some say that they seem to know more about the law firms than the lawyers, who are there to answer any concerns a student considering that path has. Some students have even suggested that they only go for the freebies. I wanted to find out what has led these students to think in this way. So I decided to carry out an experiment. The aim was to see what students from each year on the LLB course does at the Law Fair. I managed to find 6 LLB students, 2 from each year on the undergraduate course, all of whom were provided with a VIP pass to be one of the first ones into the fair.
Being one of the very first people to get into the Fair (thanks to Emily); I managed to sneak myself into a corner to spy on my guinea pigs. First in were my 2 LLB1 students. On seeing the number of leading firms and chambers, their jaws dropped. For a moment they seemed star-struck. With a wide smile on their face and a notebook in their hand they started looking for Allen & Overy, once at the stall, they asked their questions, listened to the answer and wrote bullet points in their note pads. While this was going on, one of my second year students paid a visit to a Chamber's stall, he spent no longer than 15 seconds there, and walked away with a look of disgust on his face. When I asked what happened later on? He replied the female Barrister was incredibly rude and aloof. He went onto visit a number of other stalls where he spent some time talking to the lawyers.
Third and fourth to appear were my two third year students, who seemed to walk in collect all the goodies and walked back out with a bag full of freebies. My last test subject walked in, immediately she went to the stall with the brightest banner. She spent a couple of minutes mingling with a senior staff member from that firm and seemed to be getting on well, she eventually picked up the bag of goodies and walked to another stall to a number of other stalls and spent a lot of time at the fair.
We decided to meet up at that afternoon to get their feedback on the fair. I begun by asking each person about their time spent at the faire, and what they gained from it. The 2 first years replied, saying "it was amazing", that they met a lot of "nice people" and got a lot of "nice freebies". The 2 second year students gave differing opinions to that same question, with the male saying that it "was a waste of time, I got nothing but freebies today", while the other thought that it was a "great chance" to interact with people of the profession that she wanted to get into and that she got a "great insight" into life at "some of particular firm". When I pressed the second year student as to why he felt that it was a waste of time, he replied that some of the people he spoke to were rude and that whenever he asked a question they referred him to their website, saying that "I should have just picked up the training contract handbook, and visited firms websites at home rather than, wasting my time coming here".
When the same question was directed at the 2 third year students their reply was "freebies", they stated that they felt that the law fair was not aimed at them, pointing out that only the "top firms and chambers" were invited, with the exception of "one small local firm". One of the third years then gave a similar view as the male second year student. They suggested that the organizers of the fair should have provided more of a variety of firms ranging from the top law firms all the way to high street firms.
The issue with fair has always been that students turn up with a high expectation, and whether these expectations are met is another question. When I visited the various law firms, they did make me feel very comfortable and answered my questions, I do admit that I was referred to their website where some questions were concerned but in general I found that they were reasonably helpful. On the other hand I did not have the same experience with the Barrister's chambers, I felt that they were rude, and not very helpful at all. I asked one of the staff at the Bar Council a question "What would an investment in the BVC be worth if that student failed to get a pupillage after completion?" his reply was "Prime minister". You would think someone in his position would understand that there are students who are confused about their future, and be prepared to answer questions like that at a Law fair, with a more helpful response.
Students are expected to and are told to prepare for the Fair if they are to gain anything out of it, but should the same be demanded of those who turn up and provide the students with the information? Should they be expected to prepare? Or are they just expected to turn up and see it as more of a day off?