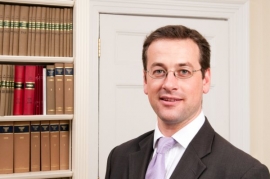 Pretty much everyone who is a serious candidate for pupillage at a good set of Chambers will have a strong academic background. Most of these people will also come across well in an interview – confident, articulate and quick-thinking.
This is true for all kinds of sets – criminal, commercial, public, family or common law. Competition is fierce to get on the shortlist for an interview, with the majority of CVs binned at a first reading. If you get an interview, you're almost certain to be asked questions about yourself, and you want the panel to remember you rather than the other candidates.
So how to stand out from the crowd?
An excellent answer is to do some work experience. A list of relevant and interesting examples on your CV is a good way both to survive the initial cull of application forms and to have something memorable to discuss at the interview. Involvement in your student law society may be the thing that means you make the cut rather than the candidate with near-identical marks. Or a good account of a vacation scheme spent with a particular solicitors' firm may make you stick in the mind of an interviewer who does a lot of work for that firm or who used to work there himself.
What kinds of work experience you do obviously depends to some extent on your own interests and ambitions, as well as on what happens to be available. I know from other City alumni who have become barristers that different Chambers look for different things: a criminal set would be pleased to see a candidate who had volunteered with Victim Support, for example, while someone who was involved with Amnesty International would catch the eye of a set specialising in public law. My own interests were in commercial and Chancery practice, so the examples below of what I put on my application forms should be read with that in mind.
Mini-pupillages:
This is so obvious as to hardly be worth saying, and I know is dealt with elsewhere on Lawbore. But it bears repeating: a range of mini-pupillages is essential if you're going to be taken seriously as a candidate for pupillage.
Vacation schemes:
I did two such schemes, both with magic circle firms in the City, in which I saw a range of work: corporate finance (taking over companies), project finance (raising the money to build gas pipelines) and litigation (sorting out the above when they go wrong). They were both quite fun – rather like pupillage but without the stress, and with a lot more trips to the pub and the London Eye etc. But I think they were also useful for the following reasons.
1. I saw what the working life of a solicitor was like and was able to compare this to what I had seen on mini-pupillages. I decided that I would prefer sitting in my own room rather than with a room-mate, working out what the legal answer was to a problem myself rather than asking someone else to do it and working in an eighteenth-century building with a nice garden rather than a big glass tower (albeit one with a fantastic view).
2. I also realised that I would be very happy being a solicitor – despite the snobbery that still exists within the profession, all of the people I met at these firms were very clever, the work was intellectually challenging, and it was very appealing to be part of a team trying to make something happen. Curiously, this realisation meant that I was happier about the idea of trying to become a barrister: if things didn't work out at the bar, I could always try my luck as a solicitor rather than floundering around without a Plan B.
3. Solicitors employ barristers. It's therefore quite handy for barristers to know how solicitors work and in particular what they think about barristers. Barristers need to know how the instructions they receive from solicitors have been put together, what kind of relationship solicitors have with the non-legal client, and what the client is likely to expect from the barrister. Some sets send their junior tenants on secondment to solicitors' firms in their first couple of years. It does no harm to get an early insight.
Teaching:
I spent 3 years teaching undergraduates before I went to the Bar – 2 at an American university where I was doing a PhD, and 1 at City while I did the BVC. My first stint was teaching English Literature, and the second Equity and Trusts. The latter was obviously relevant, but even teaching a subject other than law can be useful. Being a barrister is essentially about explaining complicated things in a simple and accurate way. Trying to take students through a Shakespeare play is good practice for this. You learn that even if you think something is obvious, it doesn't mean that your audience will. You also learn that even if you think you understand something perfectly, you really don't until someone else starts asking you awkward questions about it.
Law journal:
While I was doing my PhD I volunteered to work on the editorial committee of a student-run law journal, published by the university's law school. The chance to take this kind of opportunity obviously depends on where you happen to be studying, but if you think that you might be interested in getting involved in the publishing side of law, it's worth keeping your eyes open for a similar opportunity, particularly now that there is so much legal information available on the internet.
The work was not too taxing – an evening a week throughout the term – but could be very interesting and enjoyable: reading articles submitted for publication to decide whether they should make the cut, liaising with the authors to improve their drafts and copy-editing the draft for publication. It taught me more about law, improved my eye for detail, and gave me something to talk about in a scholarship interview at my Inn with a law professor who edits another (much more famous and important) journal.
Chris is a graduate of Oxford, Yale and the City Law School, doing pupillage and now has a tenancy at 3 Verulam Buildings, Barristers Chambers who specialise in Commercial Law. To see Chris's profile on the Chambers website click here.