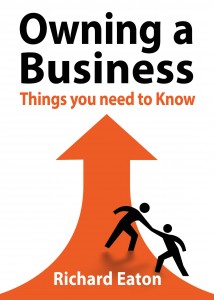 As a business mentor, I found that I was repeatedly being asked the same questions. Where can I find finance for my business? How can I best make use of social media for advertising my business? Where do I find business support services? What steps can I take to implement cyber-security? Should I form a Company or be a sole trader? What do I need to think about when employing staff or taking an apprentice?
To make better use of my time and also that of my mentees and to enable me to avoid having to repeat myself, I decided to prepare some mentoring fact-sheets. While doing this and at the same time researching relevant websites, I realised that what a mentee really needs is something that is more comprehensive than a fact-sheet which provides simple and straightforward access to desired information and advice. I also realised that the plethora of business start-up and business self-help books that are available in fact put-off many prospective and existing small business owners, who perceive them to be too specialised and complicated and generally so daunting that they rarely read past the introductory pages.
So I decided to write a short, pocket-sized (in the print version) book containing simple, jargon-free text but which nevertheless links (by hyperlink in the e-book version) to detailed and comprehensive online information. My aim being to leave it to its readers to decide how deeply they wanted to research the information that they considered to be relevant to their specific business proposal. In this way, the book does not present as being crammed with specialist and complex information although, in fact, should the reader choose to investigate further, it does link to such information online.