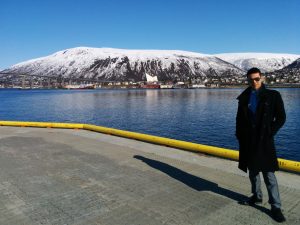 During my GDL, I was lucky enough to be invited to 'Cooperation 66 North', a conference in Tromso, Norway (at the world's northernmost university). While some people on the course would say I'm mad for taking a week out during study leave – the jury is still out on that – I met a lot of very interesting people, and learned a lot about the legal, political and security challenges facing the Arctic region. City University was generous enough to pay for the conference package, while I funded my flights and accommodation. The fact that Tromso is a beautiful city certainly helped take my mind off of exams!
The conference focused on multi-national cooperation in the Arctic region – mainly between the USA, Russia, Norway, Denmark, Canada, Finland, Sweden and Iceland. These countries are in the Arctic Council, an intergovernmental forum for Arctic discussion located in Tromso.
I attended with an eye to learning more about the legal regional challenges. The conference focused heavily on the Northern Sea Route (NSR), a lucrative shipping route crossing the top of Russia from the Bering Strait, which is becoming steadily more accessible every year due to climate change. Some of the legal issues included coordination of intergovernmental agencies to pool information (e.g. seismic monitoring, ice coverage, weather, fishing stocks), setting up funding for icebreakers and Search & Rescue (SAR), as well as trying to organise a single legal framework to govern shipping and trade in the region.