City interviews Katherine Reece-Thomas on the launch of her new Public International Law LLM, ahead of the 'Opportunities in International Law' event.
What did you do before joining City University?
A Canadian, I studied law at Oxford and did my LLM in Public International Law ("PIL") at Cambridge University. I taught PIL at Cambridge for many years while I qualified as a solicitor and then an attorney in New York. Having practiced a bit of Public International Law, it has always been an in interest to me to see how it works on the ground, so to speak, how it affects individual lives through the court systems of individual countries. But I also publish research in company law, in particular shareholders' agreements.
Why introduce the new LLM?

CLS run a very successful LLM in International Commercial Law but we haven't done any of the public international for some time. International Law is of great interest to students at the moment and to the world as a whole, of course. There are too many tragedies in the world to let it out of the public eye for long. In addition CLS has recruited a number of academics who specialise in PIL and who are passionate about sharing their knowledge and appreciation for this important subject.
What can students expect to gain from the new LLM? Why study at City?
The LLM is modelled on the existing International Commercial Law LLM. In that sense, students have to take 4 modules over a year, 2 in the first term, 2 in the second term and write a dissertation. They can specialise in particular branches of Public International Law, such as Human Rights, Minority Rights, The Law of State Responsibility, Dispute Settlement or International Criminal Law, but they obviously don't have to.
There is a stable of modules on offer, a bit of a pick and mix. The thing about City is that we will teach all the modules in house as we are not relying on any visiting professors. Our team are dedicated Public International lawyers who are very keen to teach in the areas they research and publish in. We will be giving it a very much hands on approach from the point of view of admin staff and personal tutoring.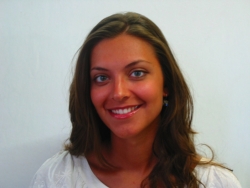 The internship at Howrey was for me the cherry on the cake after a very intense, hard working and productive year as an LLM student at City University (LLM in International Commercial Law). Although this internship was my target since applying for the LLM, the actual experience exceeded my already high expectations.
Within two months I was involved in high profile cases , the like of which I had been so recently studying for my course! One of the best moments was when I attended an oral hearing for a cartel case and was able to see some of the top lawyers in Europe argue on very complex competition issues. Apart from the actual case, which was very interesting from a competition law perspective, what made this experience invaluable was the fact that I managed to grab the real pulse of a hearing . It brought home to me how sharp, well prepared and highly qualified you need to be in order to see through such a demanding case.
Rachael Williams gives us gives an insight to combining motherhood, family life and criminal practice at the Bar.
As I leave the house early in the morning, in the dark, again, leaving my three young children sleeping in the house with Daddy on the Monday just after Christmas weekend, then I do wonder whether choosing to go back into full time practice at the Bar was a sensible one. My situation is a deserted train and my destination is one of the many Magistrates' Courts covered by my Chambers. My client will be in custody having been arrested over the holiday weekend. I hope that there may be some degree of appreciation for my turning up to represent him/her and to apply for bail. I trust that the District Judge and the Court staff will be just as eager to get through the list as I am.
Reflection provides me with answers. As a qualified lawyer, on whichever side of the profession, I have experienced a variety of work-family life combinations. The truth is that no-one can tell any other person which is the best way to be a mum and a working individual. There may be no 'correct way'. All one can do is speak from one's own experiences.
Alex completed the LLM Media Law in 2008 and is now doing a PhD at City. His interview covers his thoughts on studying for an LLM and the experience of studying law in the UK.