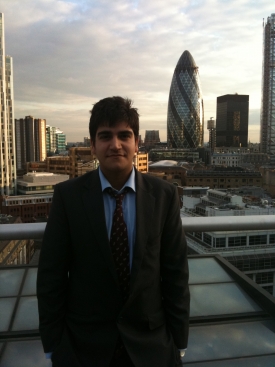 To have exposure to a large, international law firm which finds itself right at the heart of global commerce is a rare opportunity – but one that anyone would surely relish. So to get that opportunity at the end of my first year at university was one I looked to grab with both hands.
The Interview
I received a call from the Graduate Recruitment team at A&O at the beginning of July to inform me that I had been offered, based on my end of year results, an interview with the firm with a view to a one-week placement. I soon found out my friend and fellow first year Matthew Toms had also been called. Suffice it to say we were just a little anxious, but nonetheless excited to showcase our enthusiasm and capability.
We spent the next week or so cramming as much knowledge about the firm as possible: what it does, how and where it does it, and, most importantly, its culture and ethos. We scoured the globe for every known reputable source of information on A&O. We knew that the interview would not only be a chance to get across a flavour of our personality, but also an opportunity to impress with our passion for the legal profession and our appreciation of the kind of work A&O undertakes.
Our interviews were, given our limited experience, relatively long – just over half an hour apiece. An inevitable signal failure on the trains meant that I was almost one hour late for my interview: that was in spite of having left nigh two hours early. However, I got off the train and called up to say as much and managed to have it rearranged for later in the day. Public transport at its most vengeful could not spite my endeavours!
The interviews themselves were relaxed and any tension we had dissipated given the warmth our interviewers showed. A plethora of topics - from our hobbies and interests, our academic performance thus far and to our understanding and experience of practical commercial law - were discussed. Matthew and I both agreed that it felt more like a conversation than an interview, which (I think!) is a always a good sign.
And, after days of nervous wait, we were told we had secured a placement at the firm.