I recently had the free time and a corresponding strong interest in attending a seminar at the Institute for Advanced Legal Studies on freedom of expression and how it is playing out with relation to the Internet. Attending seminars was something not even on my radar in the first days of the LLB program at City, but as I begin to settle into a cycle and what was once almost overwhelming becomes a known factor, something that can be managed, I am glad to find myself able to explore my interests in these outlets. I cannot say I am certain of how my interests will guide my legal career, but human rights will always be a foundation for my legal career, and the experience of this seminar was fantastic in the way it provided a broader context to our academic studies at City.
The seminar was led by one of City's own, Professor Lorna Woods. She is a director at City's Centre for Law, Justice & Journalism, and has practical experience as a solicitor in the field, as well as authoring leading textbooks on EU law and the subject in question. In short, Professor Woods is the quintessential definition of an expert in the field. She guided the lecture along several main points, the exploration of the Internet as a right, the exploration of how far the laws on expression and the Internet can be pushed, and an analysis of the Internet itself. Is it something new, or just a new forum for the common interpretation of the law on speech? All aspects of this lecture were interesting, but I found myself compelled strongly by the first and last pillars of the lecture.
In search of the right
What really compelled me about this first point was that I was forced to think outside of my own bias on this subject. I always love it when that happens, because that's when I feel you can really learn things. I'll admit that I walked into this seminar with a clear notion that if the Internet was, if not already a statutorily defined right, then at least something confirmed by common law. The lecture demonstrated that I was not alone in my thinking, with the data supporting that nearly 80% of people at least somewhat agree.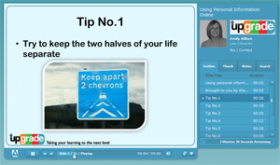 Following on from Elizabeth Cruikshank and Penny Cooper's earlier piece on The internet - friend or foe? I've knocked up a quick talking slideshow on the potential perils of keeping too much information for all to see.
We've all heard the stories about how employers regularly trawl the web for insight into candidates personal lives; this brief piece aims to give some warnings and tips about your internet profile.
How can social media be helpful for getting a job?
1. Helps create a personal brand – organisations can get a 'feel' for your personality and how you might fit into their organisation if handled correctly.
2. Using a range of media (LinkedIn, Twitter, blogs) can be a way of demonstrating your expertise in your field. You could use a blog to reflect on your project and work.
3. Getting personal recommendations from people you have worked with on LinkedIn can be hugely influential; it adds that extra facet that a CV can't achieve.
According to a poll of 2,266 people, commissioned by online solicitor directory legallybetter.com, the most popular method of finding a solicitor is the personal recommendation of friends, relatives or colleagues. But recent YouGov research suggests that the second most popular method when people are looking for someone to do conveyancing or to advise on a will is the internet. This is yet more evidence of the power of the internet as a tool in the decision-making process. How can you make it work for you?
Finding a training contract
If you have not already found a training contract, the internet can be a powerful ally. You can use it to find possible candidate firms who will appreciate your talents and achievements. But don't restrict yourself to perusing firms' online brochures and downloading their application forms. Simple Google searches on the name of a firm can enable you to garner useful information on a firm's:
- Areas of expertise
- Important clients
- Recent deals
- Recent cases and whether they have been won or lost
- Charitable activities
- Standing in the local community
- Salary increases – and in some cases salary freezes and decreases
- Redundancies
- Promotions