The start of another term at City also means another opportunity to write about my experiences attending the various legal events throughout London.  As I have begun to narrow my focus down in my own legal interests, I have also been lucky enough to attend several good discussions and events about human rights, this one above all.  This latest event (23rd October) was a discussion about the importance of fundamental rights at common law, with speakers Lord Hoffman and Dinah Rose QC.  Before delving into the discussion of fundamental rights at common law versus fundamental rights supported by treaty and statute, proper attention should be paid to the speakers, who lent their valuable insight to the night's event.
Lord Hoffman needs little introduction, but I will attempt to do justice to one nonetheless.  Born in Cape Town, South Africa and educated at the University of Cape Town and then Queen's College, Oxford, he then proceeded to the Bar from Gray's Inn in 1964.  Lord Hoffman then began his ascension into the high ranks of the judiciary, from his time in the Courts of Appeal in Jersey and Guernsey, through his position as Lord Justice of Appeal and eventual appointment as a Lord of Appeal in Ordinary, and many of his judgments in the Court of Appeal and as a Law Lord are those we are all familiar with.
An unconventional jurist, his propensity for challenging the norm was well exampled on the evening's discussion, and it was a pleasure to hear his views on the subject.
Dinah Rose, QC, will also be well known to those who are up to date on legal battles on rights in the UK.   A barrister for Blackstone Chambers specialising in human rights, she has many well known cases in her list of achievements, including battling extraordinary rendition in the case of Binyam Mohamed.  She also recently appeared for Julian Assange in his appeal against his extradition to Sweden.  She is also a strong opponent of the Justice and Security Act 2013 and has spoken against it at length.  Dinah is also highly regarded in other fields of law, employment law for example as evidenced by her 2012 investigation at the request of the BBC into sexual harassment and bullying practices.  A more extensive list of her cases and accomplishments would encompass the whole of the article, but her page at Blackstone Chambers provides a good summary.
Ever wondered what furry walls or fungus have to do with the GDL? Well, it can certainly be part of your future career. And if you think that's a tall tale, wait till you meet Giles Peaker - successful housing lawyer, Chair of the Housing Law Practitioners' Association, founder and editor of the Nearly Legal: Housing Law News and Comment site and… former GDL student at City University. The Legal 500 2011 describes Giles as "one of the most impressive housing solicitors working today".
As a law student, it's always gratifying and certainly reassuring to meet GDL alumni who survived the course, been there, done that and went on to reap the rewards of all that hard work. Yes, there is light at the end of the tunnel after all.
So how did Giles achieve all of this? And more importantly, any tips for us juniors on life as a solicitor and the practice areas of housing and public law in general?
Giles was previously a senior lecturer in History of Art and after a thirteen-year career; he turned to law in pursuit of new challenges and intellectual stimulus. By now, you must be thinking, "Wow, a teacher who went back to school" and wondering what made him take the plunge into law. Giles shared that it was the unique combination of intellectual challenge together with the practical context of real-life facts that attracted him. Likewise, he was drawn to City University's academic model of the GDL programme as opposed to other GDL providers, which were more formulaic-driven.
After all, isn't it the academically challenging environment of City that ups the game a notch by allowing us to hone our analytical skills even further? For there's a heightened sense of satisfaction when you're able to distinguish yourself from your peers. Hands up, everyone who loves a good intellectual spar.
The Human Rights Lawyers' Association (HRLA) is holding a Careers Day for those interested in pursuing a career in Human Rights Law. You'll hear from a variety of speakers and get involved in group discussions. Most importantly you'll have lots of options to gain advice on internships and applications.
Speakers include academics, barristers, solicitors, government lawyers and those who work for NGO's.
Location: The Law Society, London
Date: 31st May 2012
Time: 1.00pm - 5pm
To find out more or make a booking use the Law Society website.
For those of you who are being held back from undertaking an internship or placement for financial reasons, the HRLA offer bursary awards to assist (and has done since 2006).Here's the blurb from them about this important opportunity.
The HRLA recognises that those without independent financial backing may not be able to undertake unpaid or poorly paid work in human rights law and might be disadvantaged when applying for jobs in the human rights field as a result. Each year the HRLA provides around 5 awards from a maximum annual bursary fund of £5000 to help successful applicants undertake work related to human rights law that they would otherwise be unable to afford to do. For the first time this year, one successful applicant will be awarded the Peter Duffy Bursary Award, in honour of the human rights lawyer who contributed so much to the field.
Over the past few years, the HRLA has helped students undertake internships at the Mental Disability Advocacy Centre in Hungary, the AIRE Centre in London, the Centre for Capital Punishment Studies in Jamaica and the Commissioner for Children and Young People in Northern Ireland.
Reports from previous HRLA bursary recipients can be found on the HRLA website, along with the application form and selection criteria.

The closing date for applications for the 2012 HRLA bursary scheme is 6th May 2012. Candidates will be informed of the outcome of the competition by 15th June 2012.
1. You came to City for the BVC. You already had a 3-year undergraduate law degree. Why did you undertake further study between the City BVC [BPTC now] and pupillage?
I applied for pupillage while studying the BVC at City so I knew I would more than likely have a year between the BVC and commencing pupillage. Fortunately I gained pupillage just after the end of the BVC course by which time I had already applied to and been accepted by Cambridge University to undertake an M.Phil in Criminology. The Criminology Department at Cambridge University allows students to choose their own dissertation topic. I therefore chose 'A Critical Examination of Arranged Marriage and Forced Marriage among Women in South Asian Communities in England and Wales – asking specifically whether the practices should be criminalized?' - a subject which gained me a distinction, and a subject which is currently in the public eye following constant discussions regarding forced marriage within the Coalition government.
2. Your cv has a strong emphasis on human rights and family law. When did you first develop these interests?
I first volunteered for Oxfam when I was 16. At the age of 17 – between AS and A levels - I spent four months during the long summer holiday as a legal assistant at the Madurai High Court in India. Whilst in India I also got the opportunity to volunteer in an orphanage. These experiences were the triggers for my commitment to law as a future vocation. I soon realized that law could be used as an active tool to uphold the rights of vulnerable and marginalised individuals and consequently make a difference to people's lives.

An all star line-up of the human rights world adorned the 4th Annual Justice Student Human Human Rights Conference this weekend. This year's topic was freedom of expression and protest, both highly topical given the recent student protests, coupled with the recent Wikileaks cases.
First up was Helena Kennedy QC, recently appointed onto the Coalition's panel examining the Human Rights Act. She gave an impassioned defence of Human Rights (as one would expect), as well as some interesting insights into how she felt the act could be improved.
In her opinion it is Euro-scepticism that has fuelled discontent with the European Court of Human Rights, coupled with a failure to communicate the attraction of human rights. We hear the stories of terrorist's utilising the act, but rarely the impacts of Article 8 (Right to family and private life). A definite highlight of her address was an anecdote about standing up to a judge who had been rude to her in front of a jury. ("What can he do to me? I'm old enough to be most the juries mother, and I sit in the House of Lords!").
Within the context of heightened scandal and controversy surrounding the Catholic Church in recent months, not least the contentious issue of the Pope's visit to the United Kingdom, Geoffrey Robertson's talk on the Church in relation to human rights abuses was topical to say the least. The case of the Pope: Vatican Accountability for Human Rights Abuse held in front of a jam-packed audience at the London School of Economics certainly cut through a rather cold, wet September evening to produce a very heated discussion about religion and rights.
A colossus in the legal world, Geoffrey Robertson QC is no stranger to successfully tackling some of the biggest human rights abuses of recent times. Founder and head of Doughty Street Chambers, the largest human rights practise in the UK, we were certainly in the hands of an expert. The object of the talk was to explain how the Vatican has been corrupted by the powers and pretensions that accompany statehood, and how it has contributed to, in Robertson's words, 'one of the greatest human rights horrors of our time.'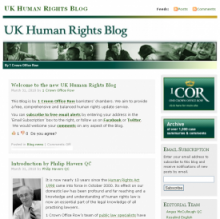 Adam Wagner, who completed his GDL at City 05-06, is one of the editors on the newly-launched UK Human Rights Law Blog from One Crown Office Row.
The blog offers a lively round-up of human rights-related news and commentary. Postings are extremely comprehensive with links to full judgments, case summaries and other documentation where possible. Their regular case comments are excellent and detailed. Users can sign up for email alerts and RSS.
Had you guys considered blogging would be a part of your role within Chambers I wonder?
Are you finding it impossible to get experience in human rights because you can't afford to work for free? To assist people in this position, in 2006 the HRLA established a bursary scheme to assist law students, either those currently studying (either undergraduate degree, postgraduate studies or LPC/BVC/Law Conversion Course) or those who have recently graduated, in undertaking such work.
Each year the HRLA will provide around 5 awards from a maximum annual bursary fund of £6,000, provided there are suitable applicants. A single award will not normally total more than £1,000. The bursary money is to be used to enable the successful applicants to undertake work related to human rights law that he or she would otherwise be unable to afford to do. That work need not take place in the United Kingdom, but it must be relevant to human rights law in the United Kingdom.
Find out more on the HRLA website, closing date is 2nd May.