Being a first year student is a lot more difficult than I thought it would be. There are so many decisions to make in addition to the overwhelming amount of workload and information that is thrown at us. The year has just begun and I already feel like time is flashing before me and it is just a matter of time when we will be in our second year and having to apply for vacation schemes and training contracts. As an international student I had no idea what vacation schemes and training contracts were until I started here at City.
The Law school system in the UK is quite different compared to Canada, where I am from. I quickly began to realize that the most effective way for me to get an idea of what's to come would be to attend a few of the many workshops and events that are available to us.
I had attended an event at Freshfields a few weeks back where I got plenty of useful information and a better understanding of a legal career in London, so when I heard that Freshfields was holding another event at City I jumped at the opportunity. I have always been interested in commercial law so the fact that the event was based on 'commercial awareness' was an added bonus.
Commercial awareness is one of the main criterion that commercial law firms look for in their potential future lawyers. But what is commercial awareness and how can one acquire such thing?
What is 'commercial awareness'?
Jessica Booker, the trainee recruitment manager at Freshfields was the perfect person to elaborate on the concept since she interviews people every hiring season to see if they have commercial awareness or what she likes to call 'commercial insight'. She sees the word awareness as something that you can teach yourself, whereas having insight is more of a skill.
I catch David Collins just as he returns from a month in Russia, teaching World Trade Organization (WTO) law to Masters students at the Pericles American Business and Legal Education Project. Russia joined the WTO whilst David was out there, and the majority of these students are working at law firms during the day and swotting up on this new area of law in the evenings. He also lectured at Moscow State University of International Relations (MGIMO) and gave a presentation on the WTO at the American Chamber of Commerce during his stay.
Exciting things have been happening at City this past year for students interested in combining the fields of law and business. David launched an advice clinic providing legal and business advice to small businesses and start-ups in the London area, along with his friend Eric Klotz. Eric, who gained a PhD in Chemistry before turning to law, did the GDL at City and now supports start-ups in Dublin with law and business advice.
Named City Enterprise Services, the clinic ran from January - April of this year on Tuesday evenings, and was staffed by City students who were supervised by professional advisors: solicitors, barristers, accountants and a funding expert. Students were given grounding in relevant law: commercial contracts, IP, employment and business planning.  It was made possible thanks to funding from the HEA, and its success has meant that this year (2012-13) students will be able to complete a whole elective on the subject as a third year undergraduate or second year postgraduate LLB. Those on our GDL course will get the chance to volunteer at the clinic in term 2 of the academic year.
Feeedback for this year from the students was exceptional with comments like these:
"It gave me as a student the opportunity to gain some practical experience and interact with clients" and "excellent opportunity to learn and apply practical legal advice"
After completing my LLB at City University Law School - I decided that I was ready, willing and able to pursue my dream of being an entrepreneur. I therefore enrolled and completed my MSc Management degree at Cass Business School for what I like to think as a crash course in how to run a business.
Crucial to any business is that you are aware of the laws which affect your business, as well as how you are contractually protected when you enter into business transactions. So far in my experience of running my own business, the two sides of law which are the most crucial are contract and company and I suggest anyone who is looking to be involved in the business world should learn these two disciplines rigorously.
I use the skills which I inherited from my law degree on a regular basis. The crucial skill which you learn doing your LLB degree is to be clear and concise with your thoughts and to be able to easily persuade a reader of your argument.
This crucial skill aids you in marketing as you are able to frame the key points of your product or promotional material in a convincing way. On a day to day basis it allows you to compose well structured emails to business associates and clients, ensuring you sound well-educated and that you know exactly what you are talking about.
First a little background: the Legal Education and Training Review is a joint project between the Bar Standards Board (BSB), the Solicitors Regulation Authority (SRA) and the Institute of Legal Executives Professional Standards (IPS). As its name suggests, the findings of the research generated by this review will have far-reaching implications on the nature of future legal education and training. The research team are essentially looking at whether the spectrum of legal education and training in the UK is fit for purpose. It has been widely reported to be the most wide-ranging review of legal education since the Ormrod Report in 1971. Final recommendations will be published in December 2012. Research for the Review is being led by Professor Julian Webb of Warwick University.
UCL hosted a LexisNexis-sponsored debate on 11th October 2011 'Do Lawyers Need to be Scholars?' with a view to kick-starting discussion around the Review. Chaired by Professor Dame Hazel Genn DBE QC, Dean of UCL Faculty of Laws, the panel was more weighted on the academic side, though their views were far from uniform. It included:
David Bickerton (Managing Partner, Clifford Chance)
Rebecca Huxley-Binns (NTU and winner of Law Teacher of the Year 2010)
Professor Stephen Mayson (Director of Legal Services Policy Institute, College of Law)
Professor Richard Moorhead (Cardiff Law School)
Professor Philippe Sands QC (UCL Faculty of Laws/ Matrix Chambers)
Each panel member got 5 minutes to state their position before some debate amongst themselves and then a final passing over to the audience. Sir Mark Potter who chairs the LETR Panel also said a few words around the review, although he was treading carefully so as to convince us no preconceptions were driving the review.
Key areas of discussion centred around the standard of the undergraduate law degree, with Phillippe Sands kicking off with a controversial stance, declaring his one regret in life was studying law and not doing something else first, before going to study law as a graduate. His assertion centring around the belief that studying law as an undergraduate in this country is stifling, closing your mind down to thinking in a particular way, at the very point when it should be opening up in new ways.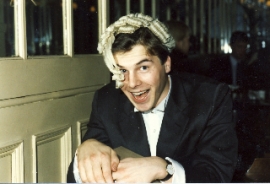 Philip Jenks spent his articles at a major City law firm alternately bored and scared. "I'm sure things have improved since the late 80s, but the training then was shockingly unstructured. I was desperate to do something else and left within days of qualification."
Philip, who completed the GDL (then the CPE) at City in 1986, now owns the Carbolic Smoke Ball Co, whose tagline is: unusual gifts for professionals.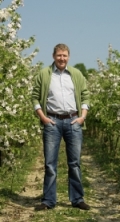 As a City Law School alumni, Keith Abel (of Abel & Cole organic fruit and vegetable distributors) is interviewed for City, the magazine for friends and supporters of City University London.
Find out how the business started, how his ethos developed, his views on higher education and what's he's been up to since selling the business 2 years ago.
Keith has strong words of advice for those graduates facing a tough jobs market.
Get inspired here!
See another piece on Keith from 2007 on thisismoney.co.uk